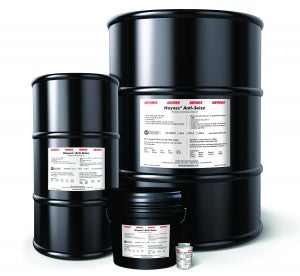 Haynes® Anti-Seize is a multi-purpose white food grade grease lubricant with PTFE for a variety of application in the plant. This grease provides maximum lubrication up to 475°F (246°C). It prevents rust and corrosion and resists water/chemical washout. Haynes® Anti-Seize is suitable for pipe threads used with potable water and will not impart an odor or taste. The grease provides a seal against entrance of liquids in slow speed or highly loaded bearings.
Common applications include; nuts, bolts, screws, pipe fittings, stainless steel fittings, valve stems and assemblies, pump gears, chain drives, gaskets, press fit assemblies, conveyor and oven bearings, packaging machinery, worm gears, and slow speed or highly load bearings <500 rpm.
Haynes Anti-Seize is available in 8 oz. (226g) brush-top cans, pails, and drums.